The KombiBox for high-roof station wagons
Turn your high-roof station wagon into a mini camper suitable for everyday use. With the KombiBox, you are completely flexible. When you want to start a micro adventure, simply place the KombiBox in the boot and off you go. You don't have to screw anything together or install anything complicated, but have everything you need for a trip with you in your box: Bed, kitchen, water supply and storage space.
Since the box is a compact unit, installation is done in a minute and you already have everything with you and can't forget anything. The kitchen is ready to go and the comfortable bed folds out in one easy step.
The telescopic pull-out is not included but can be ordered as an option.
Two versions
The KombiBox fits into around 20 different high-roof combis and comes in two versions: KombiBox-1 and KombiBox-2. The kitchen box and the dimensions of the folded-out bed are exactly the same. Only the two folding segments of the bed differ in their lengths.
On the KB-1, both segments are almost the same length. On the KB-2, the middle segment is shorter so that the bed does not hit the vehicle roof when folded out. The upper bed segment is correspondingly longer to realise the 195 cm bed length.
The KB-2 can also be used in all vehicles where the KB-1 is listed. As a rule, however, no more people can sit on the rear bench seat in the short wheelbase. If there is a 3rd row of seats in the vehicle, it must be removed.
At a glance:
Cooking drawer: mounted on telescopic rails (45 kg load capacity), aluminium draft shield locked by shock absorber
Cooker: 2-burner gas cartridge cooker with integrated gas cartridges (no TÜVA approval required) - IMPORTANT INFO: 2-burner cooker currently not available, alternatively 1-burner cooker and 25,-Euro price reduction or delivery without cooker = 55,- Euro price reduction.
Water supply: 2 canisters à 10 l, 1 drain tap, 2 stainless steel bowls:
Mattress: High-quality cold foam material, 10 cm thickness, 3-piece
Bed suspension: loops adjustable in length without tools, folding legs are used on some vehicles
Material: Waterproof glued multiplex wood phenolic resin coated, aluminium profile strips, steel hinges and handles
Weight: Box with cooking drawer and foldable lying surface 60 kg plus equipment (cooker, jerry cans, bowls, mattress).
Dimensions: base of the box W 106 x H 42 x D 76 cm
Lying surface: 110 x 195 cm
We reserve the right to make technical changes, optical deviations are possible.
Scope of delivery:
Camping box
Cooking drawer
Windbreak
2-burner gas cartridge cooker - currently not available
2 gas cartridges
2 canisters à 10 l with 1 drain cock
2 stainless steel bowls
Folding bed (carries 180 kg) with belt loops (adjustable without tools), partly folding legs
High-quality cold foam mattress, 110 x 195 cm, 10 cm thickness, 3-piece
Tension covers, 3-piece, 100% cotton
Lashing strap 500 daN
Weight with cooking drawer and foldable lying surface 60 kg plus equipment (cooker, jerry cans, bowls, mattress)
Base area box W 106 x H 42 x D 76 cm
optional: 
Telescopic extension: 150,- €
If you are not sure which version fits your vehicle or if you have any further questions, please contact us at any time: info@lazy-camping.com
Why the QUQUQ Box?
You don't need any manual skills and you don't need camping experience either. You can easily carry the box using the folding handles on the side and put it in the boot. Then secure it with the tension straps and off you go on your journey.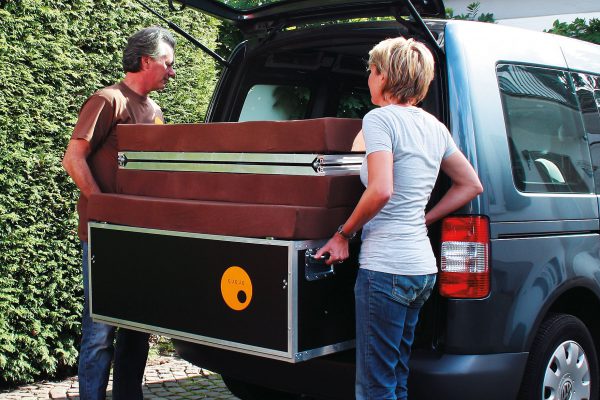 Good handling
You don't have to be muscle-bound to carry the box. If you can lift 2 bubble boxes, then you can easily carry the box with another person. With the larger BusBox as well as the D- and G-Box, the bed can be removed for easy installation. On the
Compact and robust
The box fits through any standard front door and requires less than 1 square metre of floor space. Its use requires no modifications or drilling on the vehicle and no TÜV registration.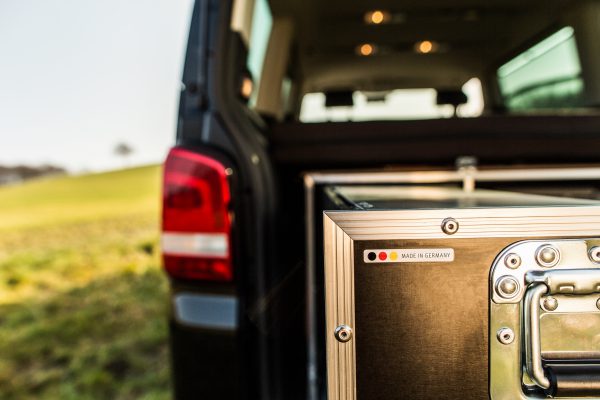 All edges are well protected by aluminium profiles and the waterproof wood is extremely resistant.
QUQUQ is "handmade in Germany", very robust and insensitive: optimal for mobile outdoor use.